Edelweiss Golf & Country Club was founded in 1985 by Andy Tommy, Art Tommy and their friend, Reg Lefebvre. The golf course was created to serve as a summer business to accompany the already established Edelweiss Valley Ski Resort. The ski hill was also founded by Andy, Art and Reg, twenty-five years prior, in 1960. The ski resort was sold, forty years later, in the year 2000.

Andy was the most heavily involved in the creation of both the ski hill and the golf course. Meanwhile, Art and Reg were busy managing the famous Ottawa sporting goods store; Tommy & Lefebvre. Together, Andy, Art and Reg contributed immensely to the ski industry and to the development of the sport of ski racing in the National Capital region.  
Andy Tommy was a pioneer of the Canadian ski world. He grew up in Ottawa and began his skiing career at the Ottawa Ski Club. His two younger brothers, Art and Fred, were also highly competitive skiers. In fact, the Tommy boys came from an already famous Ottawa sporting family. Their father, Andrew Tommy Sr., was a football star in the CFL.

Incredibly, Andy, Art and Fred would eventually become members of Canada's Alpine Ski Team. Andy was a dominant force in alpine skiing from 1950-60. Surprisingly, the majority of his racing success occurred after he was struck by another racer on the side of the trail at Stowe, Vermont. Andy was put in a coma for over a week due to the accident and doctors did not believe he would ever ski again. He certainly proved them wrong. In 1960, Andy was also the Canadian Olympic Ski Team Manager for the Olympic Winter Games in California. 
Golf also became part of Andy's legacy when he founded Edelweiss Golf & Country Club. For over three decades, the Tommy family has owned and operated the golf club. Andy's son, Mike Tommy, is the President of the club and has been for the past twenty-five years. Mike also carried on the family's ski tradition as he is a two-time Canadian champion and a two-time Olympian as well. Unsurprisingly, Mikaela Tommy (Mike's daughter), is an elite ski racer too. Mikaela represented the University of Colorado Boulder Division 1 ski team and pursued a degree in Environmental Design. She also raced at the World Cup level for several years! 
Today, the Tommy family continues to work diligently towards the development of the golf course and the surrounding community. Edelweiss has long served as a wonderful place for people of all ages to make lasting memories.

Edelweiss Golf & Country Club delivers an outstanding outdoor experience and allows its guests to connect with nature in a profound way. The unique and open concept setting of the course delivers breathtaking uninterrupted views of the ski hill and surrounding natural environment.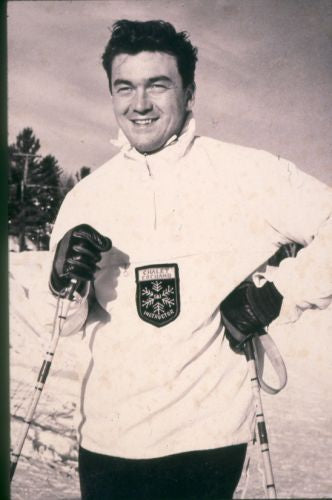 A message from the Tommy family
Our mission is to provide residents and visitors of the Capital Region with an unforgettable and affordable golf experience that they will cherish for a lifetime. We believe that our core values which include: family, trust, commitment and care (to name a few), truly empower our team in reaching this goal. We have an impressive track record in supporting a wide array of individuals and organizations along the way. And we carry on that tradition year after year. We take pride in our history and our commitment to the well-being and development of our community. Please enjoy this beautiful oasis we call home. And may future generations love and appreciate it as well.